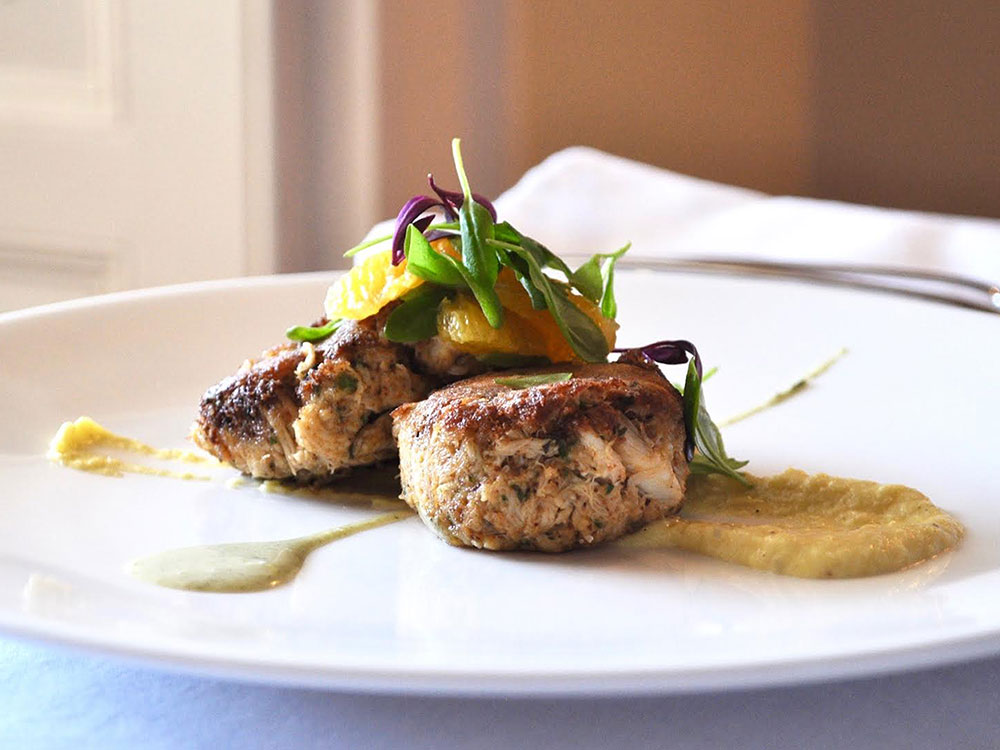 There's a Great Story in Lowcountry Cuisine!

Exporters have tried and failed to bottle the singular charms of Lowcountry cuisine: It simply must be experienced at the source. The late, great author Pat Conroy once said "A recipe is a story that ends with a good meal." Here, in Pat's Lowcountry there are so many great culinary stories it is hard to decide where to begin!

On site, the Ribaut Social Club (RSC) captures the incorrigible spirit and convivial atmosphere of the original RSC, established at the Anchorage in 1891. It started as a gentlemen's literary society but quickly devolved into a roulette wheel with nightly shows and dancers. Our current version doesn't include these vices but we do serve Lowcountry favorites like Shrimp 'n' Grits. If you decide to take an adventure fishing, bring some of your catch back and our chef will prepare it for your dinner. We also feature Admiral Beardslee's favorite drink the Cherry Bounce. The Admiral was the owner of the Anchorage that allowed the founders of the RSC to start their charter in his mansion. We source much of the fair locally and it's always fresh. We also have local patrons.  The RSC creates a tableau for visitors to meet and mingle with Beaufort's charismatic locals. See, dine, drink and be seen.

Of course it is seafood that our visitors are after and there is a wonderful variety prepared in a variety of ways. Frogmore Stew, a mashup of shrimp, sausage, corn and potatoes is a local favorite. The stew came from Richard Gay, owner of the Gay Seafood Company on St. Helena Island, SC. The story goes that one weekend while on duty with the National Guard he made the stew in an effort to serve over 100 of his fellow guardsmen. Frogmore Stew became far more well known after it was featured on the cover of Gourmet Magazine in the 1980s.

If it's oysters you want, the Lowcountry offers a unique source. In and around Beaufort, it is the Single Lady Oysters from Lady's Island Oyster Inc. that are always rated the best. They are grown in the clean, crisp waters of the estuaries around the Sea Islands, untouched by polluted freshwater rivers flowing to the Atlantic in other areas. The Single Lady Oysters are filled with pure salt water flowing directly from the Atlantic and have a smooth briny start with a sweet clean finish. They are simply the best oysters you will ever taste and part of why NPR has dubbed the Southeast as the Napa Valley of oysters!

Vegetarian and Vegan guest will be happy to know that the Lowcountry is full of many wonderful produce farms. Dempsey Farms out on St Helena Island has been family owned and operated for 60 plus years. They invite you to come pick your own Heirloom Tomatoes , squash, zucchini, cucumbers, pickle cucumbers, green beans, peppers, eggplant, okra, cantaloup, sweet corn and more depending on the season. A five minute drive to the Port Royal Farmers Market on a Saturday morning will introduce you to all the fabulous colors and smells of fresh grown produce. A favorite of the locals are the big red tomatoes that are sometimes prepared in a Tomato Pie or even devoured on their own with a little salt and pepper. The rich taste of Lowcountry tomato cannot be beat!

At the end of your culinary adventure is downtown Beaufort which has plenty of restaurants that feature all of this local fair. Old Bull Tavern is a gastropub with unique flavors like Wasabi Deviled Eggs & Prosciutto or Smoked Local Mullet Spread. Wren Bistro & Bar is a great lunch spot with salads and soups, their Tomato Basil Bisque is to die for! Griffin Market, previously located in Washington, DC, features Northern Italian Cuisine with an amazing wine list. Saltus offers waterfront dining with steaks, sushi, oysters and shrimp.  Last but not least, you don't want to miss the Nashville Hot Chicken at Breakwater! All of these spots are walking distance from the inn and have their own unique way to present the story of Lowcountry Cuisine to you.

If you're ready to write your Lowcountry Cuisine story, come visit us!